Applications and Connectivity
Wireless Connectivity by itself is not enough. To turn it into something useful it needs to be complemented with usable and compelling applications that persuade customers to use it.
Too often the detail of an application is left until a late stage of the product development. As we enter a new era of Internet connected devices, where the web application is a fundamental part of their function, applications and connectivity need to be considered at the very start of the design process, and be carried out as a critical part of the product development.
WiFore can help you with you product design by highlighting the issues around connectivity and applications, helping from the specification to implementation, ensuring that you provide the most compelling user interaction.
Copyright WiFore 2009. All Rights Reserved

2.4GHz Bluetooth Wi-Fi design RF
wireless Health 2.0 GSM low energy
Assisted Living platforms telematics
applications eHealth 802.11 ZigBee UWB
connectivity telecare ITS GPRS Wibree
M2M 3G usability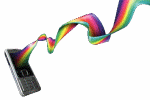 Market Analysis
Roadmapping
Technology Selection
Product Design
eHealth
Applications